Lagardère Travel Retail opens 18 outlets in new Abu Dhabi International Terminal A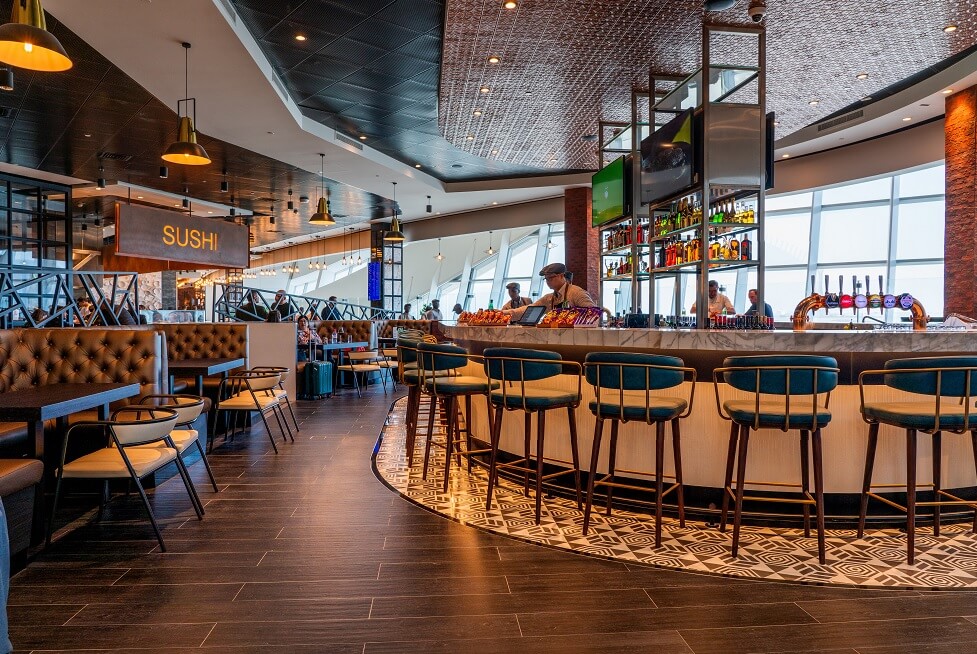 Lagardère Travel Retail – through its joint venture Lagardère Capital with Abu Dhabi Capital Group – has become one of the largest concessionaires in the new Terminal A with the opening of 12 duty free and six food & beverage (F&B) outlets at Abu Dhabi International Airport.
A further retail unit and one more restaurant is due to open in mid-2024 when the US pre-clearance facility of the new Terminal will also open to the public.
Lagardère Travel Retail's operations cover over 5,200 square meters and the company serves as the master concessionaire for liquor, tobacco, confectionery, and fine foods, as well as perfume and cosmetics. It also is one of the major F&B operators outside the International Departures lounge.
In addition to having redesigned and enhanced Abu Dhabi Duty Free stores, Lagardère Travel Retail also crafted four distinctive bespoke duty free concepts exclusively for Terminal A, underpinning an ongoing commitment to elevating the traveler experience. These bespoke concepts include:
• Le Gourmet, a flagship fine food store, immersing visitors in the rich culinary heritage of the region which offers a selection of regionally sourced products and globally celebrated brands, reflecting the best of Arabian hospitality.
• Le Club and Little Le Club, havens for enthusiasts of champagnes, wines, spirits, and tobaccos sourced from all corners of the globe.
• Scent, a luxurious beauty emporium, offering a wide collection of fragrances and cosmetics sourced from renowned brands worldwide.
Lagardère Travel Retail's commitment to food and beverage is highlighted with this new offer which features a premium culinary concept crafted with celebrity chef Todd English, through to quality grab-and-go options. The Todd English Pub & Market is an exceptional 1,000sq m food hall, with five counters, including a licensed bar and one of the few airport woodfire pizza oven globally while The Majlis, a localized café, boasts customized drink creations alongside popular classics. The Meat District, offers a range of New York-style hamburgers, hotdogs, fries and milkshakes.
Lagardère Travel Retail has also introduced their own brands SO! Coffee and Culto Café, that are new to the region and will provide passengers with excellent barista crafted coffee and quality grab-and-go offerings.
Lagardère Travel Retail said it has prioritized all aspects of the traveler experience, ensuring that their retail and F&B concepts meet the diverse needs of passengers. From conceptual development and store designs to product selection, every detail has been carefully considered to cater to the international traveler, ensuring that a comprehensive range from everyday essentials to luxurious and premium products is available.
Experiential and immersive spaces have been created across the portfolio, which includes an impressive 11m screen fascia at Le Gourmet and Le Club, tasting activation bars providing customers with the opportunity to taste before they buy, and for those looking for a rare or limited edition bottle, the opportunity to visit 'The Collection': a private tasting room showcasing some of the world's most coveted bottles. Lagardère Travel Retail has also built two walk-in humidors where aficionados can explore a carefully curated selection of fine cigars.
According to Lagardère Travel Retail, its dedication to sustainability is at the core of the new operations. Throughout the construction of the outlets in Terminal A, the company ensured full compliance with Estidama, a framework that promotes sustainability in planning and construction. The commitment extends to every touchpoint from product sourcing through to service and waste management. All outlets provide sustainable guest supplies, which are 100% recycled and biodegradable from carrier bags through to rPET bottles and cutlery.
Lagardère Travel Retail is dedicated to sourcing local products to reduce its carbon footprint and only serve cage-free eggs. A partnership with Bean & Beyond, a local organization that repurposes coffee waste to cultivate gourmet mushrooms, also contributes to a circular environment. Lagardère Travel Retail said it continually reviews, measures and evolves its sustainability efforts across all its businesses, and already has plans to further enhance its sustainability program in Abu Dhabi over the coming months.
Vadim Motlik, CEO, Lagardère Travel Retail UAE, commented, "We are honored to have been selected to partner with Abu Dhabi Airports on this remarkable project. With the launch of our 18 new retail and F&B outlets in Terminal A at Abu Dhabi International Airport, our objective wasn't simply to open stores, but to create a destination that enhances the passenger experience and establishes a new standard for excellence. Our goal was to develop concepts that seamlessly blend innovation, sustainability, and exceptional service to ultimately deliver unforgettable traveler experiences. We look forward to welcoming passengers and shaping the future of travel retail."
Maureen Bannerman, Chief Commercial Officer at Abu Dhabi Airports, added, "We are pleased to welcome Lagardère Travel Retail to Terminal A, the state-of-the-art new terminal at Abu Dhabi International Airport. With 163 F&B and retail options, Terminal A will enhance the passenger experience and help redefine travel retail excellence. We look forward to working with Lagardère Travel Retail as we shape a new era of aviation in Abu Dhabi."