Cartier underlines strategic ambitions with new Frankfurt Airport boutique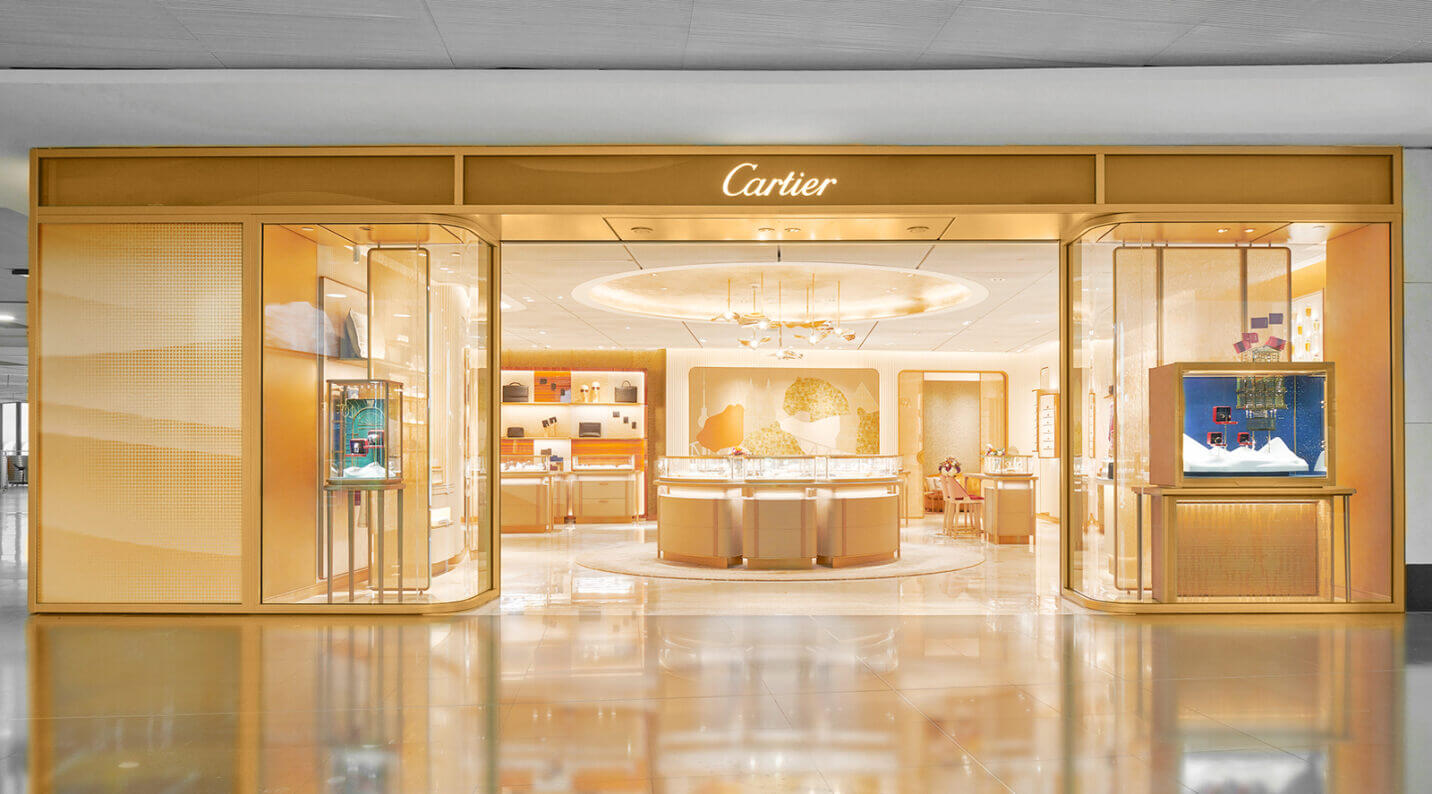 Cartier has expanded its global travel retail footprint with a new boutique at Frankfurt Airport with long-standing partner Wempe Jewelers, continuing the Maison's equity and presence in European airports.
The new boutique is described as "an embodiment of Cartier's devotion to establishing an elevated retail experience in major travel destinations". And Frankfurt is one of those vibrant hubs, boasting up to 49 million passengers in 2022.
Located within the airport's Terminal 1B, the store is the first Cartier boutique in German airports to offer the full Maison's product range.
Inspired by the distinctive position of Frankfurt Airport as a major node of global jet-setting, the boutique's façade features champagne-gold sumptuous. Travelers are welcomed into a lavish space featuring a custom-made chandelier and patina ceiling. The boutique's signature feature wall, in French Casamance wallpaper, features panthers roaming from Frankfurt to iconic landmarks across Germany.
The 145sq m boutique offers an array of Cartier's iconic jewelry and timepiece collections. Accessories such as leather goods, fragrances and gifts are also available, along with a private salon offering travelers a space to enjoy the elegance of the Cartier universe.
Virginie Martignac, Cartier Global Travel Retail Director said, "Located at the heart of Europe, this new boutique is an exciting step towards our strategic presence on the continent. Historically an important city acting as a key entrepot for commerce into Germany, Frankfurt remains today a dynamic financial and cultural center, which serves as the perfect backdrop to our expansion of the Cartier universe. Being the largest airport in Germany, Frankfurt Airport is a valuable partner to the Maison. Our mission is to bring our elegant savoir-faire, creativity, and luxury shopping experience to travelers from across the world."
Head of Wempe Kim-Eva Wempe commented, "This partnership reflects our shared commitment to quality, elegance and timeless beauty. We offer our customers the opportunity to immerse in the unique world of Cartier and discover the impressive selection of exquisite jewelry and watches. We are proud to continue our collaboration by opening the first full-line boutique in a German airport and offering passengers at Frankfurt Airport an unparalleled shopping experience."
Karl-Heinz Dietrich, general representative for trading and rental management at Fraport AG, added, "We have a long-standing and trusting partnership with the jeweler Wempe. We are therefore very pleased to be able to celebrate this important milestone together in the further development of our luxury offering for our discerning guests at Frankfurt Airport. We would particularly like to highlight the excellent collaboration with Cartier and Wempe, their holistic approach to all processes and subject areas will guarantee the success story of the newly opened Cartier boutique."