Gebr. Heinemann offers travelers a multi-sensory and interactive journey at Copenhagen Airport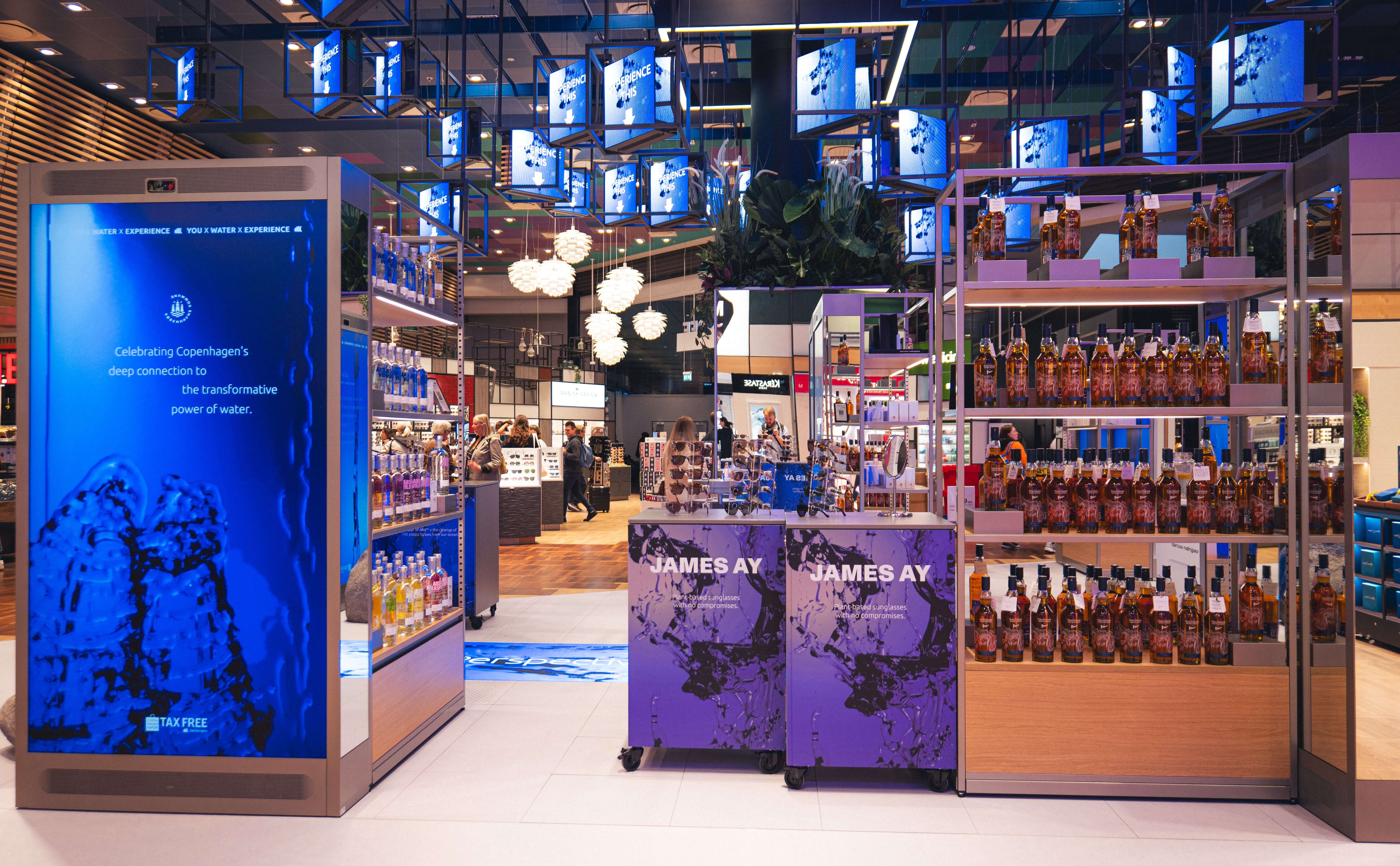 Five brands are presented within the space – within the airport's tax free store – with a focus on "fluid perspectives." Visitors are invited to enjoy cutting edge innovation with lift and learn technology, interactive digital screens and a digital floor, as well as highly immersive visual and sound elements.
Stepping onto the floor, travelers see the water move beneath them; one wave of the hand and the water changes direction on the multiple digital screens surrounding them. When visitors lift the model of a water drop presented throughout the space, the screens show them details on the role water plays in Demark, with its 8,750 kilometers of coastline, its capital Copenhagen's high-quality tap water and projects like underwater gardening. The sound of flowing water is everywhere.
The five brands – Narciso Rodriguez, Talisker Wilder Seas, Absolut Vodka, as well as the two Danish sunglass brands MessyWeekend and James Ay – showcase their connection to water and the environment. Through the lift and learn technology, visitors can gain a deeper knowledge and a connection to the brands and their products.
For example, they discover that a £3 (US$3.65) donation from every sold bottle of Talisker Wilder Seas Whiskey is made to help protect the oceans. Or that all James Ay eyewear is made from Mazzucchelli M49, a material of which 90% can be converted to natural gasses and the remaining share turns into water and biomass.
A special treat for all senses is offered by Narciso Rodriguez. To not only smell but experience the new All of Me fragrance for women with notes of rose, visitors are encouraged to sample a drink made of roses.
According to Gebr. Heinemann, the brands that are presented in the "Experience Space" will be switched regularly.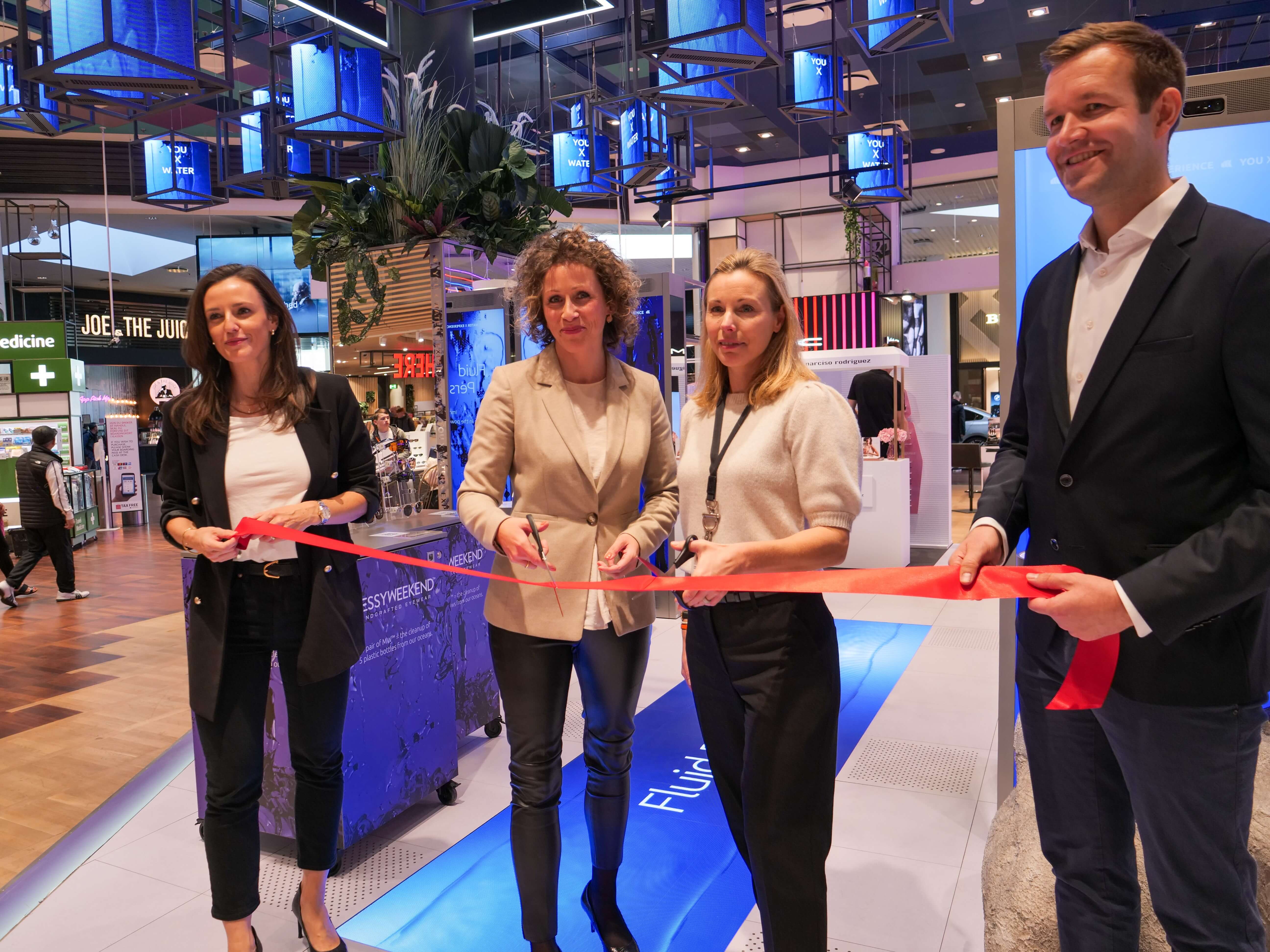 Sören Borch, Director Sales Experience & Excellence at Gebr. Heinemann, says, "We promise the travelers unforgettable experiences as a part of our mission statement to turn travel time into valuable time.
"Our new 'Experience Space' is another proof point of how we bring our promises to the shop floor. In this case with an interactive and inspiring consumer experience that delivers a unique shopping proposition. It is multi-dimensional, agile and programmed to continuously reinvent itself to stay in touch with the changing consumer expectations. After the launch in Copenhagen, there is still more to come in other locations."
Katrin Bamler, Managing Director of Gebr. Heinemann in Copenhagen, adds, "We are very happy to present this amazing new concept to the travelers. I have never seen anything like it, and I think that it offers the perfect mix of content, excitement and shopping opportunity. We share a longstanding and very trustful partnership with Copenhagen Airport and are delighted that they embarked on this new adventure with us."
Åsa Söderberg, Head of Sales & Ecommerce at Copenhagen Airports A/S, comments, "At Copenhagen Airport, we always strive to give our passengers an extraordinary experience. The new 'Experience Space' provides new forms of interaction and inspiration between brands and customers and we are pleased Gebr. Heinemann chose Copenhagen Airport for the launch of the new concept.
"The area will focus on brands that can deliver an extraordinary experience and gives smaller local Danish brands the opportunity to reach a wider audience. Our experience shows that unique experiences and good service are closely linked with increased sales and something that passengers today expect from traditional retail."