Gategroup and Immfly Group announce strategic alliance in onboard retail technology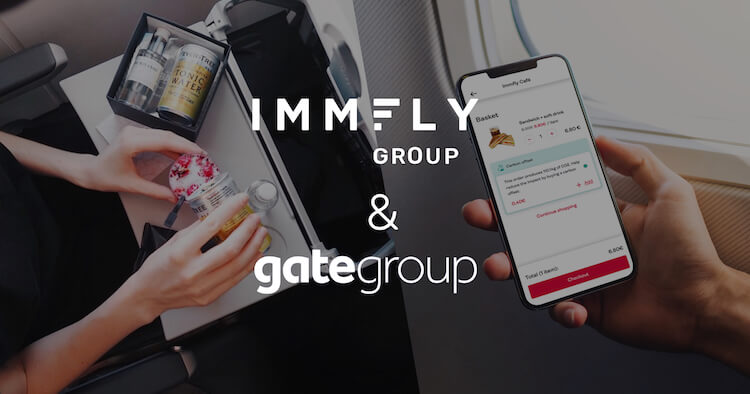 Gategroup and Immfly Group, the innovative Cabin Digital Services and Retail Technology company, have announced a strategic alliance in onboard retail technology. The partnership integrates two industry-leading platforms into a singular, cutting-edge solution. This alliance also heralds a long-term commercial relationship, positioning Immfly as Gategroup's technology partner of choice in crucial areas including Crew Applications, Payment Solutions, In-Seat Ordering, Back Office Solutions, and beyond.

Gateretail brings deep industry knowledge and a strong track record of success in designing and implementing in-flight retail programs for airlines around the world, while Immfly has a proven track record of delivering innovative and engaging digital solutions to enhance the in-flight experience and drive cabin harmonization.
The partnership will leverage the synergies and expertise of both companies to provide airlines with a comprehensive and seamless connectivity in-flight experience for passengers and crew. From a universal Wifi platform, in-seat order and EPOS system, the omni-channel digital architecture will allow travelers to order meals and retail products pre-flight or in-seat as well as work, socialize or enjoy entertainment seamlessly onboard. Dynamic pricing, real-time inventory tracking and integrated data analysis tools will also provide amplified ancillary retail sales.
Built on an open architecture, Immfly's agnostic and integrated platform is also designed to drive additional revenue sources to airline partners through internet access, newly accessible content and offers online.
Together, the companies will provide a fully integrated in-flight retail platform that includes a state-of-the-art digital storefront, personalized product recommendations, and an efficient and secure payment and delivery system. The platform will also incorporate Immfly's digital content offerings, including a wide range entertainment and educational content, to provide passengers with a seamless and engaging in-flight experience.
"We are excited to partner with Immfly to bring our in-flight retail solutions to the next level and help drive an integrated solution for our combined airline partners around the world," said Fernando Guinea, Managing Director of gateretail. "Our collective expertise will enable us to provide airlines with a comprehensive, seamless and engaging retail and entertainment experience that not only meets the needs of today's passengers but helps drive incremental revenue channels for our partners."
Jimmy M. von Korff, Co-founder and Executive Chairman of Immfly Group, "By combining our digital expertise with gateretail's retail acumen, we're poised to offer a revolutionary, integrated digital experience within airline cabins. This enhanced approach allows airlines unprecedented customization, enabling them to fine-tune their digital strategy to meet both operational demands and individual passenger needs. We are excited to join forces with gateretail as we continue our shared ambition to elevate the global travel experience to our airline partners worldwide."
This commercial alliance establishes one of the most expansive and technologically advanced retail operations in the aviation sector. It embodies the shared vision between Immfly and gategroup, solidifying their leadership in the ongoing evolution of in-flight retail.