​Latest US$1 million wins in DDF Millennium Millionaire draw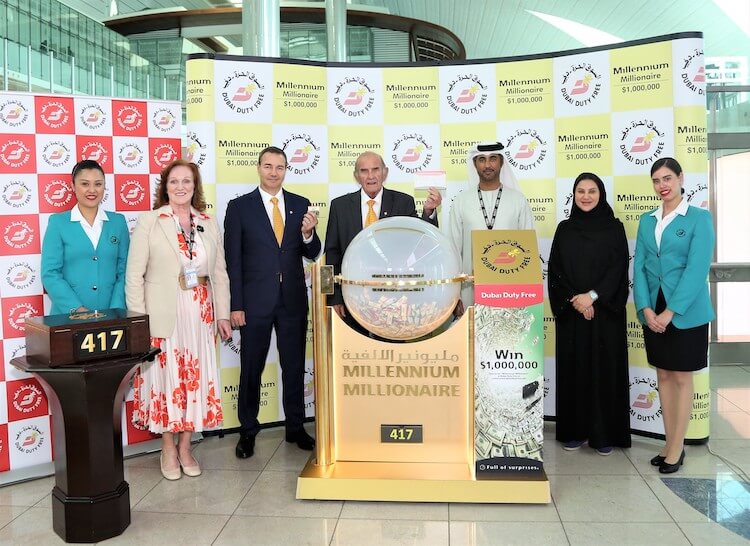 Fifty-four colleagues from dnata have collectively won US$1 million in the latest Dubai Duty Free Millennium Millionaire draw, held in Concourse B of Dubai International Airport.
The ticket holder, Sanjay Lalla, became a US$1 million winner in Millennium Millionaire Series 417 with ticket number 3837. A resident of Dubai for 29 years, Lalla and his colleagues have been participating in the promotion for a year now, alternating the name on the ticket for each series whenever they purchase.
Lalla, who works as a service delivery officer for dnata, is the 208th Indian national to have won since the start of the Millennium Millionaire promotion in 1999.
The draws were conducted by Dubai Duty Free's Executive Vice Chairman & CEO, Colm McLoughlin, Sinead El Sibai, SVP - Marketing, Mona Al Ali, SVP – Human Resources, Michael Schmidt, SVP – Retail and Zayed Al Shebli, SVP - Loss Prevention and Corporate Security.
After the Millennium Millionaire presentation, the Finest Surprise draw was conducted for a luxury car and two motorbikes.
Hassan Al Mustafa won a Mercedes Benz S500 with ticket number 0358 in Finest Surprise Series 1833.
Meanwhile, Muppalla Veera Satya Raju Narayan won a BMW R nineT Urban GS motorbike with ticket number 0804 in Finest Surprise Series 532. A regular participant in the Dubai Duty Free promotion for 10 years, Narayan works as civil engineer.
Lastly, Ayub Murad Ali Al Balusi won a BMW F 850 GS Adventure motorbike, with ticket number 0013 in Finest Surprise Series 533.Al Balusi has been a regular participant in the Dubai Duty Free promotion for 15 years and works as a public relations officer at Hamriya Freezone in Sharjah.
"Thank you Dubai Duty Free, I can't wait to come to Dubai to collect my winning bike," said Al Balusi.