The Estée Lauder Companies release Fiscal 2023 Social Impact and Sustainability Report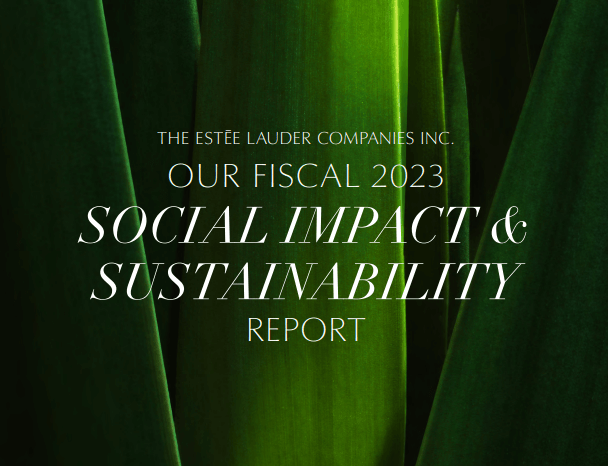 The Estée Lauder Companies (ELC) have released the Fiscal 2023 Social Impact and Sustainability Report.
In a joint statement, The Estée Lauder Companies Executive Chairman William P. Lauder and President and Chief Executive Officer Fabrizio Freda underline the company's role in being responsible "not only for our business, but to seek opportunities for our innovation, operations, and partnerships to go beyond our company, and have global impact".
"Our aim is to meet and exceed the expectations of our global consumers at various touch points, by creatively and strategically incorporating social impact and sustainability, through various channels, with beloved products and innovation, and our signature High-Touch approach to services and engagement," they say.
ELC Chief Sustainability Officer Nancy Mahon comments, "We continue to deepen our understanding of how our work impacts the environment and the communities where we live, work, and source, focusing on issues that are strategically relevant to the company and of critical importance to our world. Grounded in this knowledge, we're developing approaches to magnify positive actions, make meaningful contributions, and create value for our business. We have maintained a steady pace towards achieving our goals and commitments."
Key achievements highlighted in the report include:
Honored 30 years of ELC's Breast Cancer Campaign.
Contributed to the global efforts to drive climate action by continuing to achieve carbon neutrality across our Scope 1 and Scope 2 greenhouse gas emissions and source 100% renewable electricity globally for our direct operations
Met ELC's goal to achieve global pay equity by 2023 across the populations included in our pay equity study, which include R&D, Supply Chain including Manufacturing and Distribution and Corporate Functions, and Brands and Regions globally.
Met and exceeded supplier diversity goals by surpassing FY25 goal of increasing spend with women-owned businesses to US$150 million and exceeding the goal of increasing spend with black-owned businesses.
Advanced progress toward packaging sustainability goals – 51.5% of travel retail SKUs produced without plastic film-wrap and 100% of travel retail cartons use Forest Stewardship Council (FSC)-certified cardboard.
The report is published in tandem with ELC's second Climate Transition plan, which outlines a roadmap to achieving the company's fiscal 2030 climate targets.