Diageo Global Travel reveals Hainan design in Johnnie Walker Blue Label Cities of the Future series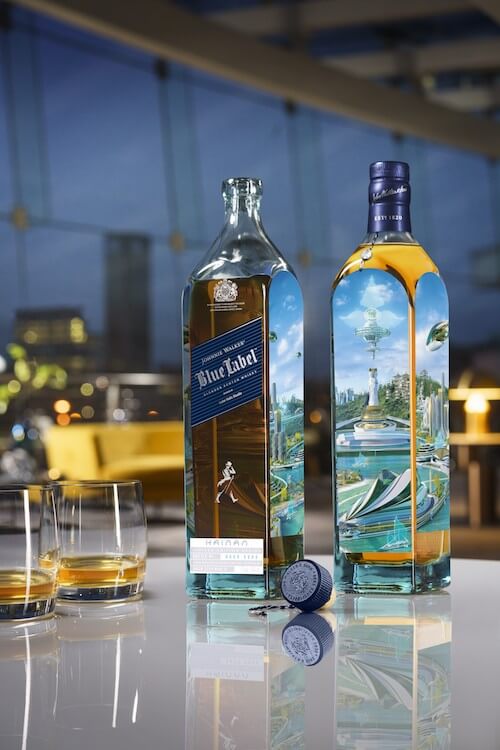 Diageo Global Travel has unveiled a utopian vision of Hainan in 2220 with the launch of the new Johnnie Walker Blue Label Cities of the Future Hainan limited-edition design, available exclusively in selected locations across travel retail.
According to the company, the limited-edition design is created by world-renowned artist Luke Halls — who has previously worked with Beyonce, U2 and Rihanna — and explores themes of geoengineering, AI empowerment, and technologies that defy physics. The intricate illustrations reimagine a thriving and vibrant future Hainan in 2220 with transformed cityscapes and skylines.
Halls' illustration of 23rd century Hainan embodies the idea of a geoengineered city, a tourist paradise for citizens of Earth and visitors from the Martian colonies alike. Its floating islands transport visitors through the city's rich heritage from the Ming Dynasty right through to the early 21st century, while gravity-defying cable cars that bridge the islands provide stunning views of a cityscape recognizable for its infamous Bougainvillea clusters and Ming Dynasty-inspired pagodas that tower over the Guanyin of Nanshan statue. Jewel-like solar panel installations float in the surrounding ocean providing power and enhancing the city's natural beauty.
The Johnnie Walker Blue Label Cities of the Future Hainan limited-edition design is available to consumers in the Johnnie Walker Whisky Boutique Store located in Haitang Bay in Sanya, Hainan. The omni-channel campaign features highly impactful digital media content and influencer amplification across multiple online and social media channels.
Andrew Cowan, Diageo Global Travel Managing Director, said, "China is such an important market for us, and Hainan, its newest retail hub, is a hugely exciting place to showcase our incredible portfolio of rare Scotches. We've found a new home in Hainan with our new whisky boutique there and it's brilliant to follow this opening with our Cities of the Future Hainan limited edition. We're delighted to see Johnnie Walker Blue Label launching in Haikou, Sanya cities and other locations within travel retail with this beautiful and exclusive bottle design, giving travelers and shoppers an exciting glimpse of a future Hainan."
Sandra Tassilly, Diageo Global Travel Commercial Director for APAC, MENA, and India, added, "This incredible limited-edition design for Johnnie Walker Blue Label Cities of the Future is a treat for travelers and shoppers to Hainan. An exciting and fun glimpse of what a future Hainan might look like. Luke Halls' beautiful illustrations are the very embodiment of the Johnnie Walker philosophy of progress, looking to the future with the rally cry of Keep Walking. The rare whiskies in the liquid, the intricate craft and innovative collaboration of Johnnie Walker and Luke Halls, make this limited edition design the perfect gift to give to those who walk with you."
The limited-edition bottle has an NFC chip in the label that allows customers to explore a vibrant, imaginary Hainan society of the future that has embraced new scientific developments to unlock creative potential.