​WiTR+ exceeds expectations for Koma Karanth Foundation at TFWA Cannes event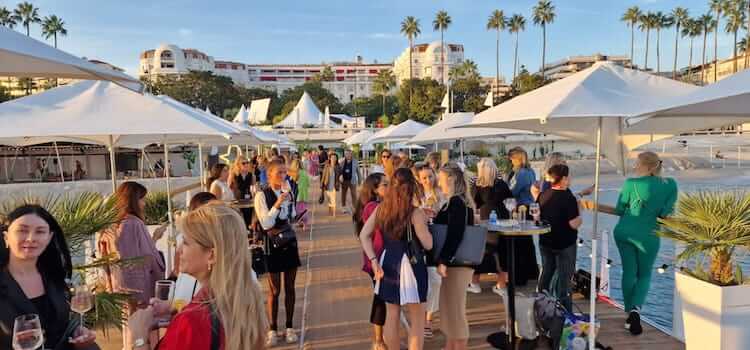 Women in Travel Retail (WiTR+) met for a networking session on Diageo's beach location on October 3 during the TFWA World Exhibition.

WiTR+ has gained significant momentum over the last twelve months with inspiring webinars and excellent networking opportunities from Hong Kong to Singapore, to Dubai, London, Hamburg and Miami. It's now offering corporate partnerships to enable companies to offer membership to the women in their GTR teams.
At the Cannes event, jointly hosted by Diageo, Victoria's Secret and Tumi, WiTR+ announced that it had raised EUR 34,000 (US$36,000) for the Koma Karanth Foundation, over double its initial target and enough to build and furnish five houses.
The total was significantly boosted by the generosity of Victoria's Secret, who presented Koma Karanth Foundation founder, Maitreyi Karanth, with a cheque for US$12,000.
Sarah Branquinho, WiTR+ Chair said, "We are absolutely thrilled with the turnout at today's networking session and with the industry's generosity. Our goal was to reach EUR 15,000 (US$15,905) and to raise over double that is mind-blowing. I'd like to extend my sincere thanks to everyone who donated, to Diageo for hosting, and to Tumi and Victoria's Secret for co-sponsoring the event."
Andrew Cowan, Managing Director for Diageo Global Travel added, "At Diageo we believe in championing inclusion and diversity, within our organization and teams, through our brand campaigns and in partnership with our industry. I am delighted that we can support WITR+ and work alongside side it to continue to build a community in travel retail that is reflective of our diverse and inclusive traveling consumer."