Royal Salute launches 25-YO Taiwan edition with Taipei Duty Free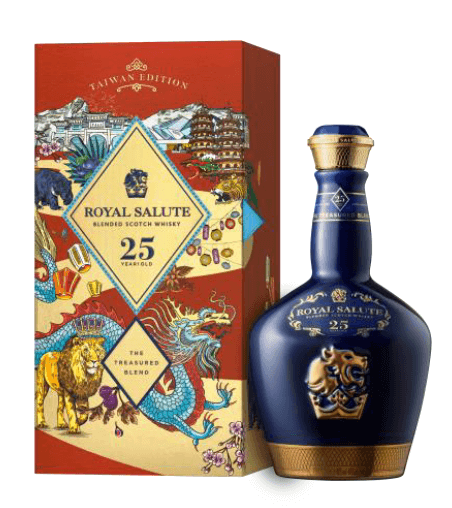 Pernod Ricard Global Travel Retail (PR GTR) and Royal Salute have announced the launch of a new limited edition packaging design for the whisky brand's iconic and treasured 25-Year-Old blend.
Inspired by the beauty of Taiwan, the collector's item will be available in time for New Year's celebrations, exclusively with Duty Free Taipei Taoyuan Airport from November 2023.
The 25-Year-Old Taiwan Edition captures the beauty, energy, and rich traditions of the country, all while playing homage to the rich heritage of Royal Salute. Adorned with illustrations of landmarks and symbols synonymous with Taiwan, such as the Dragon & Tiger Pagodas, Plum Blossom (the national flower of Taiwan) and the Chinese Dragon, the packaging design encapsulates the essence of Taiwan's culture.

The 25-Year-Old expression is presented in a beautifully crafted flagon adorned with sophisticated golden detailing and topped with a jewel-like stopper. The whisky, which is aged for no less than 25 years, features the finest blends which are expertly combined to create an exceptional liquid with a splendid flavor. This Treasured Blend continues Royal Salute's legacy of distinction for elegantly crafted Scotch whisky.
Simon van Moppes, Managing Director, North Asia Pernod Ricard Global Travel Retail said, "We are thrilled to present this stunning new limited edition, exclusively for travelers visiting Taiwan, and thank our partners at Taoyuan Airport for helping us to bring the launch to life in a luxury setting. We continue to offer rare and collectable items in key travel retail locations, elevating and differentiating the retail offer and experience, whilst ultimately delivering value and exclusivity to our travelers."
Liya Zhang, VP of Marketing, Pernod Ricard Global Travel Retail said, "The Taiwan Edition is bursting with the magnetic beauty and energy of Taiwan, and Pernod Ricard Global Travel Retail is proud to have worked collaboratively with Taipei Duty Free to bring this limited edition to market. We're confident that this exclusive release, which perfectly embodies the culture and heritage of the country, will appeal to both whisky collectors and traveling shoppers looking for the perfect gift for friends, family and loved ones this holiday season."