​Laphroaig Distillery debuts richly flavored Elements series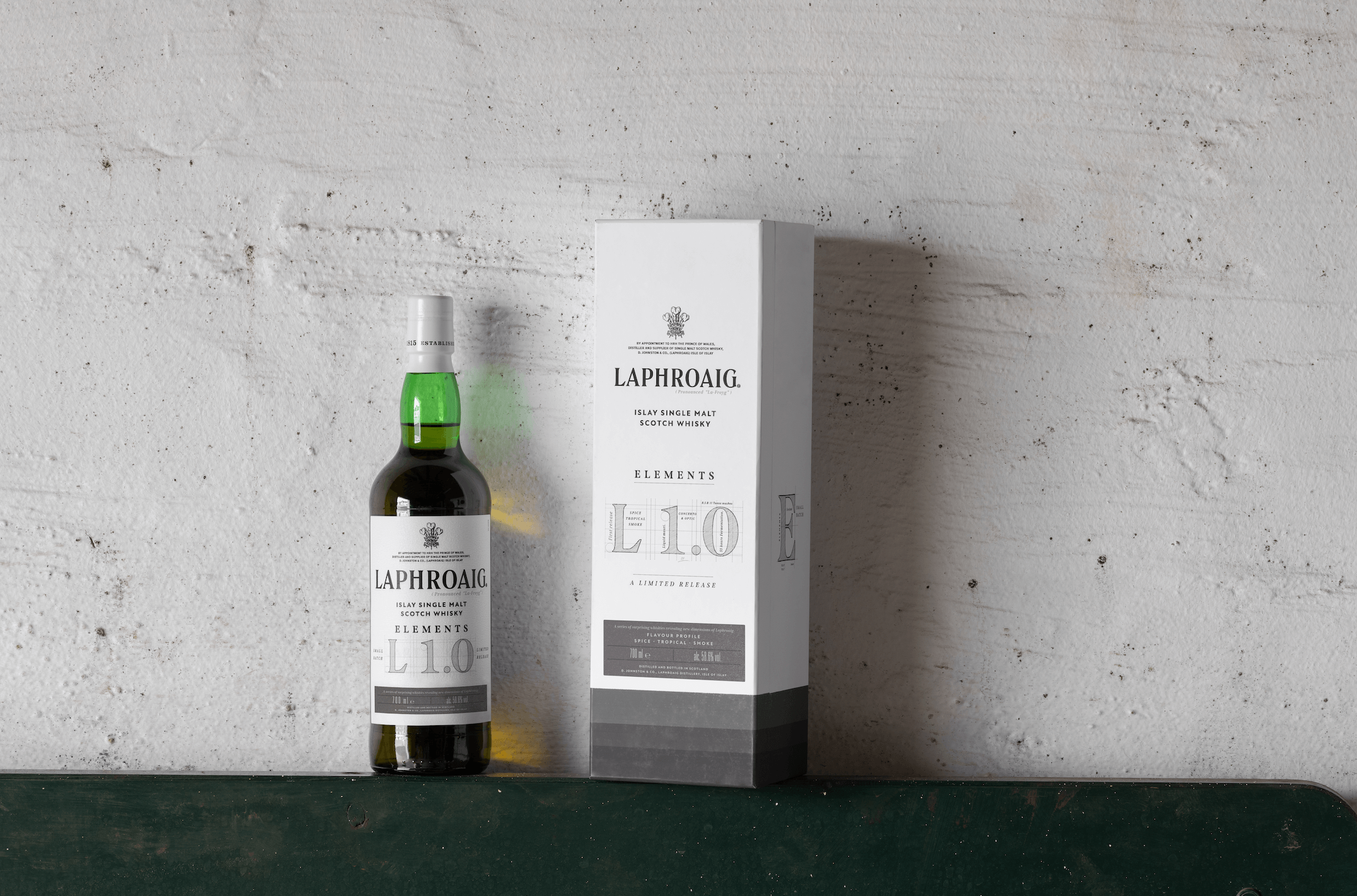 Islay distillery Laphroaig has unveiled Elements, a new series that delves into the artistry of production that makes Laphroaig's whisky so richly flavored. To create Elements 1.0, the Laphroaig Distillery team were given free rein to produce something unexpected that embodies the traditional Laphroaig profile, while adding new dimensions of flavor.
Three experiments have been brought together to create this unique whisky. Firstly, the combination of a cloudy and semi-cloudy wort brings forward more tropical fruit notes, without compromising on the signature peat that makes Laphroaig so richly flavored. Secondly, the distillers used both an 8.5-tonne and an 11-tonne mash, combining the past and the present of distillery production norms. And finally, the whisky uses 100% Islay malt, capturing the essence of the distillery's home in a way rarely seen in Laphroaig spirit.
Once combined, these three experiments create a whisky that is distinctly Laphroaig, but with a unique twist. Fresh sea salt, smoky bacon and charred pineapple on the nose lead to a palate of peppery spice, tropical fruits and liquorice. On the finish, the famous peatiness of Laphroaig shines with a lingering sweetness.
Barry MacAffer, Distillery Manager at Laphroaig, said, "Elements is a series that we hope will give our friends a peek into the art and science of making Laphroaig. Our distillery profile is so iconic and we always want to retain this as the heart of every bottle, while allowing room to experiment and innovate. This first release showcases the raw materials we use in our whisky, especially the 100% Islay malt. As an Islay native this is an extra exciting whisky that I think will bring a little bit of our rugged island to friends around the world."
As the series evolves, each expression will feature a series of easter eggs on pack that catalogues the experiments that have gone into making each bottle and the hands behind them, allowing drinkers an unrivalled glimpse into the artistry and science of the whisky-making process.
This is the first expression in the series, with more to follow in 2024. In global travel retail, Elements will be available exclusively in Dufry/Avolta UK doors, from early December 2023. The RRSP is USD$165.
Only 257 bottles have been allocated to the channel, most of which have been earmarked for London Heathrow. The remainder are destined for the retailer's specialist World of Whiskies stores across its main UK airport locations.
"I am thrilled that we are able to offer this premium release to a selection of our valued travelling consumers," said Beam Suntory Brand Marketing Director Global Travel Retail Manuel Gonzalez.
"Elements is such an exciting and experimental whisky, combining flavors from a mix of old and new processes, which has allowed us to once more push the boundaries of craftmanship, creativity and innovation."
"Just like the of island of Islay, this limited-edition single malt is multi-layered, complex and unique. This new series heralds another great chapter in the story of our distillery, which is renowned the world over for its finest peated whisky. I'm confident that our discerning passengers will embrace this new incarnation, which enhances the classic Laphroaig taste profile with an exceptional contemporary new take," he added.