Diwali Deserves Dewar's multi-regional campaign runs throughout November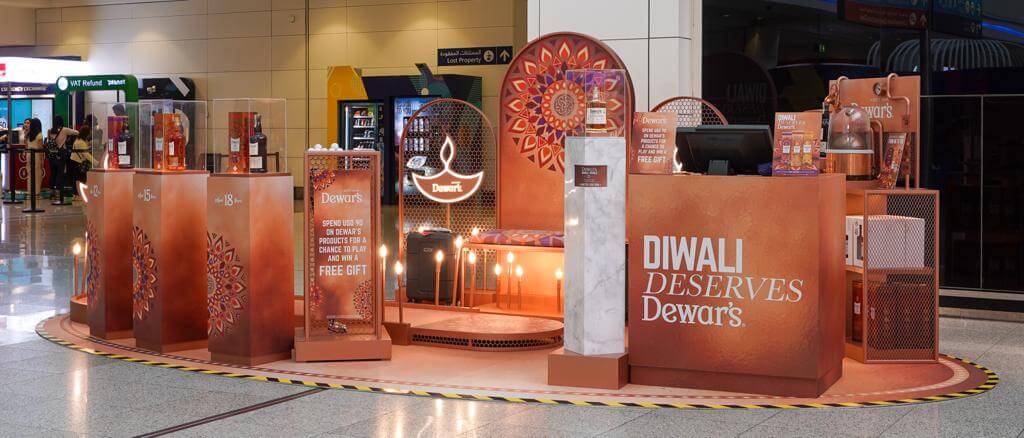 Bacardi Global Travel Retail has launched a 'Diwali Deserves Dewar's' multi-region campaign across South Asia, India, Middle East and the UK throughout the month of November.
With the festival culminating this weekend (November 10-12), millions of people are on the move to celebrate the iconic 'Festival of Lights' with family and friends and last minute-gift buying is at its peak. Exclusive to travel retail, the Dewar's Diwali range 2023 is described as the "perfect gift solution for the many whisky lovers".
With celebratory festival colors and designs, the premium limited-edition gift pack sleeves reflect the Indian Rangoli art tradition where intricate, often symbolic designs are created on the ground during Diwali. For Diwali 2023, Dewar's has added a new layer of excitement and celebration, introducing personalized augmented reality to enhance the gifting moment for both the gift-giver and the recipient. Featuring on Dewar's 12 Year Old, 15 Year Old and an 18 Year Old Diwali Pack only available in India and Middle East, the limited-edition packs invite consumers to scan the QR code to experience the Diwali augmented reality experience with the option to record a personal message and upload an image to share the Diwali pack as a gift for a lucky recipient.
The 'Diwali Deserves Dewar's' campaign maximizes brand visibility with strategic digital airport advertising and in-store activations at major hubs. Alexey Babin, Regional Director IMEA, Bacardi Global Travel Retail explains, "Diwali is, without question, one of the most important celebratory moments on the global calendar. This year we've raised the bar even higher in how we help our consumers maximize their enjoyment, by pioneering experiential innovation to position DEWAR'S as the key whisky to enjoy during Diwali. With increased investment in bigger, bolder and more disruptive engagement campaigns at key locations such as Dubai, Delhi, Mumbai, Bangalore and further afield, wherever Indian consumers are traveling to celebrate Diwali, we are there with them."
Ignacio Vazquez, Global Head of Marketing, Bacardi Global Travel Retail adds, "At Bacardi we love helping people celebrate significant personal moments and these new limited-edition DEWAR'S Diwali sleeves do just that in a premium, imaginative, and interactive way. Progressive and open-minded whisky consumers from emerging markets, especially in India, are strongly motivated by the craft involved in significant age statements, by awards and by travel retail exclusives. These are all strong components in this Diwali range, giving gift-buyers the confidence that, by choosing the world's most awarded blended Scotch whisky, their Dewar's Diwali gift is sure to delight."