House of Suntory marks 100th anniversary with new releases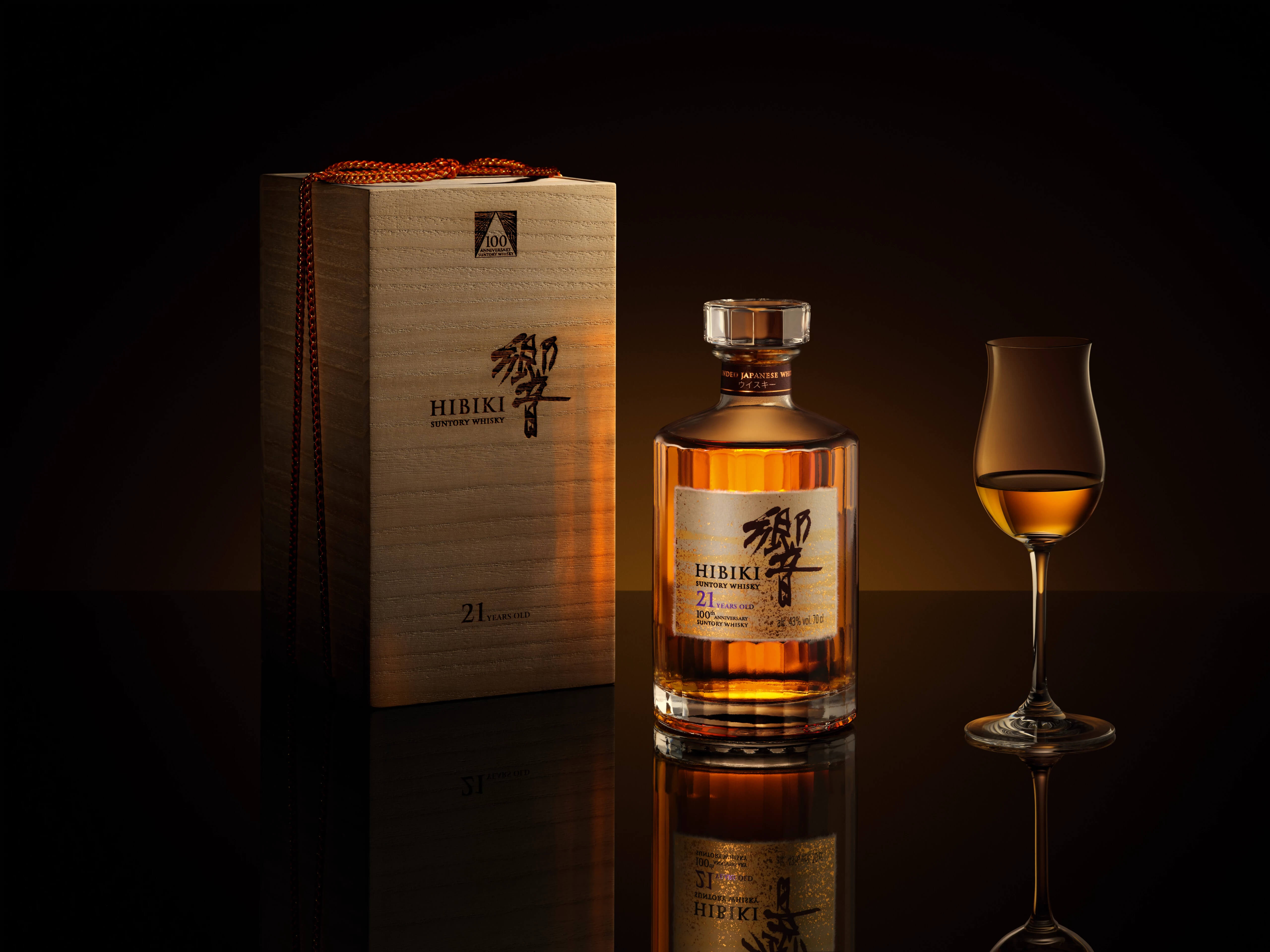 The pioneering house of Japanese whisky has released two new limited-edition bottlings within its six-part celebratory centennial range.
As 2023 marks a momentous year for the House of Suntory, the founding House of Japanese whisky is thrilled to reveal the centennial release of its Hibiki 21-Year-Old and a limited edition bottle design of the travel retail exclusive Hibiki Japanese Harmony Master's Select.
The two releases mark the latest centennial whisky offerings from the House of Suntory's anniversary celebration, honoring a century since founder Shinjiro Torii established Japan's very first malt whisky distillery in 1923.

In travel retail, Hibiki 21-Year-Old will be available in five key strategic locations: Singapore, London, Hainan, Dubai and Frankfurt. Throughout October, the release will be featured in Changi Airport's World of Wines & Spirits showcase, in partnership with Lotte Duty Free. In November, the launch will be supported by a hero activation at London Heathrow T5, in partnership with Avolta (formerly, Dufry).
Also in November, Hibiki 21-Year-Old will be showcased at the House of Suntory's shop-in-shop retail space at CDF Sanya International Duty Free Complex, Haitang Bay. This will be followed by the debut House of Suntory's shop-in-shop boutique concept at Singapore Changi Airport in T3 departures, which is scheduled to go live by the end of December. Finally, Hibiki 21-Year-Old will be highlighted at a high profile pop-up at Frankfurt Airport in December, in partnership with Gebr. Heinemann, created to celebrate the House of Suntory's 100th anniversary.
Originally, making its debut in 1989, Hibiki is considered among the most prestigious whiskies in the world and has become one of the most sought-after Japanese blended whiskies. Hibiki is a harmonious blend of various malt and grain whiskies from Suntory's Yamazaki, Hakushu and Chita distilleries. The limited-edition Hibiki 21-Year-Old is a delicate marriage of malt and grain whiskies that are meticulously blended to create an orchestra of flavors and aromas. For this special centennial edition, rare Mizunara oak is placed at the forefront, profoundly influencing the blend while still maintaining Hibiki's character and essence.
"For the limited edition Hibiki 21-Year–Old, our team took on the challenge of crafting a new blend to celebrate our centennial," says Chief Blender at Suntory Shinji Fukuyo. "With meticulous precision, we managed to harness the challenging-yet-rewarding characteristics of Japanese Mizunara oak to accentuate the unique flavour profile for which our Hibiki whiskies are known. This special whisky showcases our continued dedication to craftsmanship at the House of Suntory."
As shared by the company, the centennial anniversary label design on the Hibiki 21-Year-Old bottle artfully displays a gradual transition of colors that evoke the sunrise in Japan, a symbol of life, vitality and the ever-flowing passage of time. In Japanese culture, the sun holds deep meaning, as it nurtures the surrounding nature and provides essential energy. It stands as a reminder to appreciate life and embrace the changes that come with each passing moment.
Tender gold in color, this extraordinary whisky embodies the spirit of "Wa," or oneness, with enticing aromas. It offers refined and elegant notes of kumquat and jasmine with Japanese incense. The palate is subtly sweet and floral combined with spiced sandalwood and agarwood. The result is a long and deep finish with undertones of spiced Mizunara wood. Hibiki 21-Year-Old 700-ml is bottled at 43% ABV. In addition to the four specially selected travel retail locations, it is available globally in select markets with an RRSP of USD$6,321.50.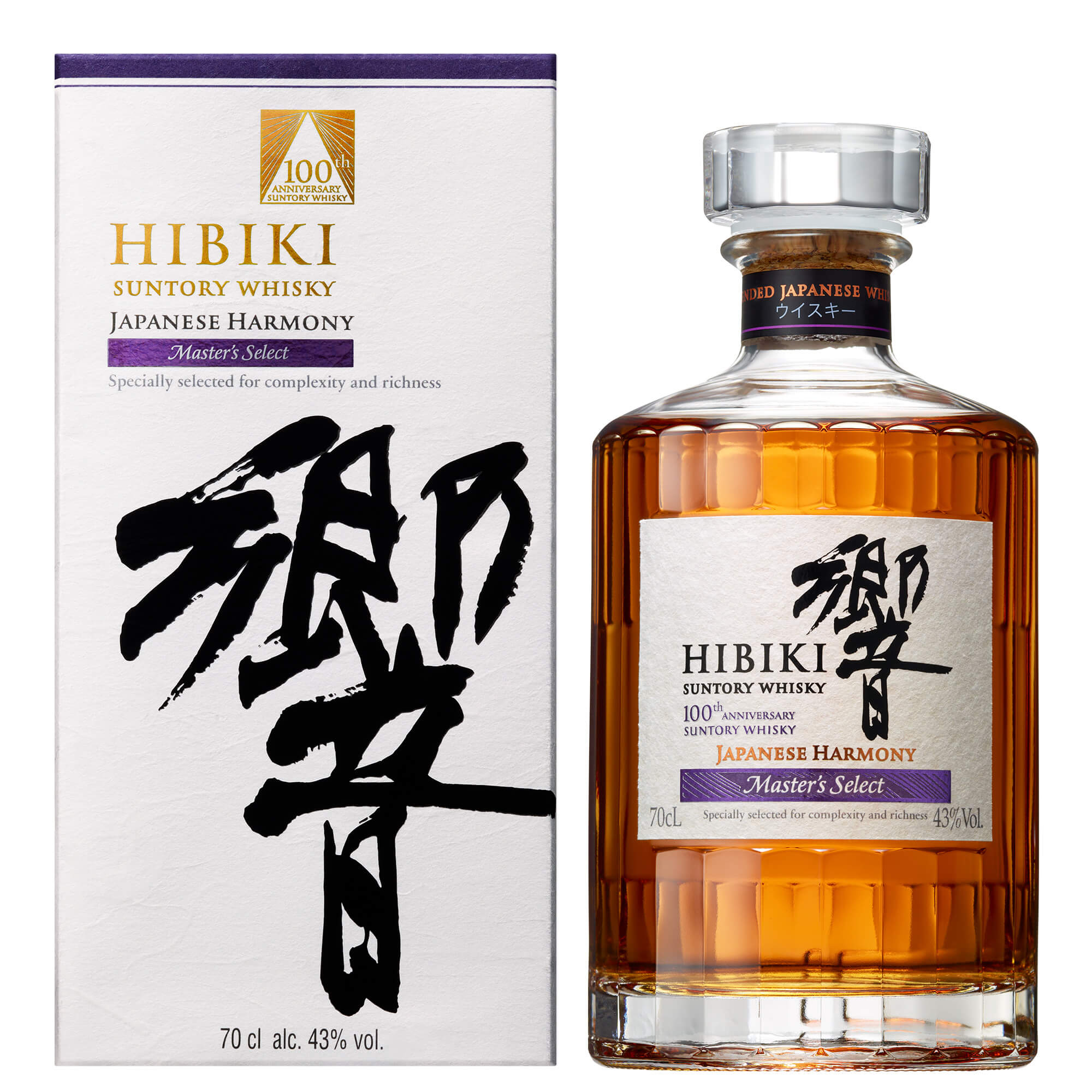 In other news, the House of Suntory has created another two centennial limited edition bottle designs for its iconic Hibiki Japanese Harmony Master's Select whisky: one for the domestic market, and one for the travel retail channel. Both feature the 100th anniversary logo on the outer box and outer label.
Amber in color, this luminous and delicate whisky presents notes of rose, lychee, a hint of rosemary, mature woodiness and sandalwood on the nose. On the palate, it offers aromas of honey-like sweetness, candied orange peel and white chocolate. The finish is both subtle and tender with a hint of Mizunara. Hibiki Japanese Harmony is bottled at 43% ABV. The global travel retail exclusive version of the Hibiki Japanese Harmony Master's Select 100th Anniversary Edition is available at all existing Hibiki Harmony Master's Select locations, with an RRSP of USD$115.50 (700-ml).
"This anniversary is a milestone achievement for the House of Suntory, and I am delighted that we are able to showcase the very special Hibiki 21-Year-Old Centennial Edition in selected travel retail doors," noted Beam Suntory Brand Marketing Director Global Travel Retail Manuel Gonzalez. "I am also excited to unveil the global travel retail exclusive version of the Hibiki Japanese Harmony Master's Select 100th Anniversary Edition."
He continued, "Our travel retail partners have played an invaluable role in helping us bring this year's centennial celebrations to life, and we appreciate all the opportunities we have been given to mark this accomplishment.
"As the pioneer of Japanese whisky, the House of Suntory has redefined the elevated craftmanship and attention to detail that is necessary to create such an exceptional portfolio. These two very special collectible whiskies epitomise the House's relentless pursuit of quality, blending tradition and innovation to create two limited edition bottlings that are sure to appeal to traveling connoisseurs, and drive interest and engagement within the wider luxury whisky category."
Earlier this year, the House unveiled its centennial edition Yamazaki 18-Year-Old Mizunara and Hakushu 18-Year Old-Peated Malt whiskies. Limited 100th anniversary labels of the flagship Yamazaki 12-Year-Old and Hakushu 12-Year-Old were also released for the centennial. All four are available in select markets around the world.