Moët Hennessy unveils landmark shop-in-shop at Zhuhai Duty Free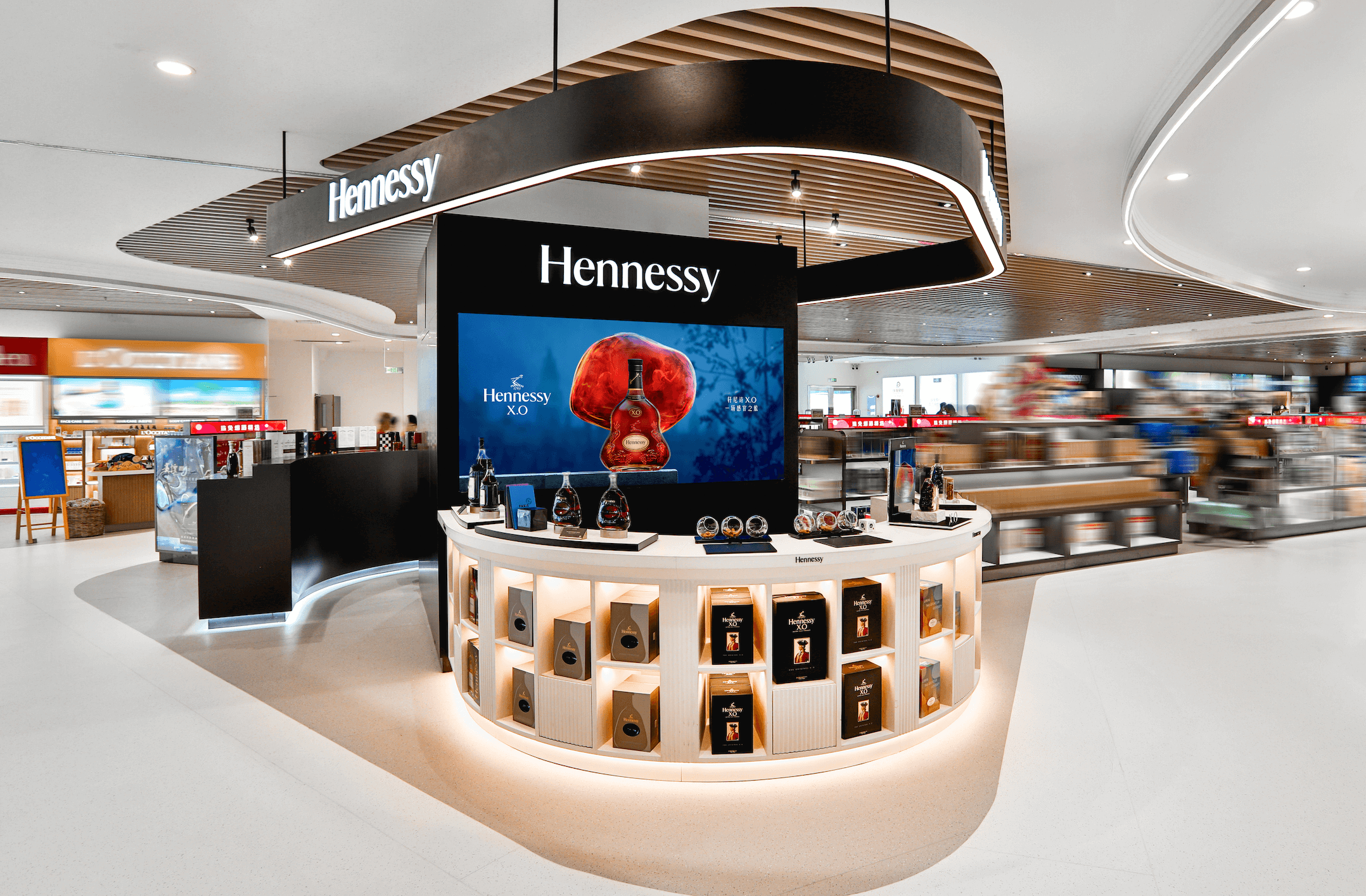 Moët Hennessy Travel Retail has announced the grand opening of Hennessy's shop-in-shop in Zhuhai, China. The retail space is situated at the conveniently located Gongbei Port, one of four ports of entry on land between mainland China and Macau.
Zhuhai Duty Free Gongbei Port arrivals store, spanning 3,889 square meters, marked its inauguration on May 24, 2023. Covering two floors, it has become the largest duty free shop at a land port in the Asia Pacific region. This achievement perfectly aligns with the strategic development of the Guangdong-Hong Kong-Macau Greater Bay Area.
Offering a portfolio of Cognac that represents more than 250 years of savoir-faire, the Hennessy store, occupies 37 square meters on the second floor, boasts an innovative design that leverages an island shape, offering visitors a 360-degree view of brand visibility and discovery. In addition, Hennessy has opened an exquisite 16-square-meter brand corner on the first floor.
Shoppers can embark on a journey to explore the cognac brand's full portfolio: the harmoniously balanced Hennessy V.S.O.P, Hennessy X.O, James Hennessy, which pays homage to one of the Maison's historic figureheads, Hennessy X.X.O 1-liter exclusively available in duty free stores and highly selected duty paid channels, as well as the rare Hennessy Paradis.
Appealing to the discerning tastes of travelers and embracing local festivities, the Hennessy shop in Zhuhai also offers limited edition and collectible Hennessy cognacs. The journey culminates in a delightful cognac tasting experience.
Hennessy X.O campaign "Life is the Greatest Odyssey" in-store activation
Moët Hennessy Travel Retail has also introduced a Hennessy pop-up as part of the X.O Odyssey campaign "Life is the Greatest Odyssey" at the arrivals store. Directed by Academy Award-winning filmmaker Damien Chazelle, this campaign marks the third instalment of the Maison's Odyssey opus, following successful collaborations with Sir Ridley Scott (2019) and Nicolas Winding Refn (2016). Inspired by the idea that each drop of Hennessy X.O is an odyssey, Chazelle contemplates in the film how even the smallest moments can trigger a disruptive Odyssey of thoughts and memories, accompanied by an array of enticing merchandise.
Situated prominently at the mall's entrance, this activation not only highlights the new and exclusive Hennessy X.O Odyssey Limited Edition, but also features select products from other collections. The display includes colorful plinths that artfully present the Hennessy X.O from various angles, along with interactive consumer tasting experiences that promise an indelible impression.
See more photos below: