​Pernod Ricard GTR showcases white spirits in global pop-up activations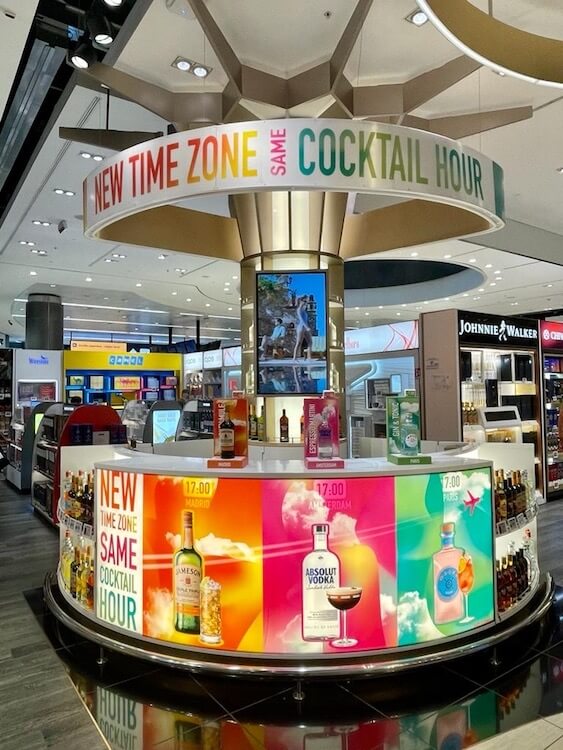 Pernod Ricard Global Travel Retail (PRGTR) has unveiled a new activation concept 'New Time Zone, Same Cocktail Hour,' showcasing its wide portfolio of white spirits brands. Launched globally in June 2023, travelers are able to experience the activation in key travel hubs including Sydney, Heathrow and New York airports.

Targeted towards Millennial and Gen-Z shoppers who enjoy exploring new brands and product offerings, the pop-ups have been driven by the ever-growing trend for at-home cocktail occasions. Travelers will be able to shop and discover brand favorites in the white spirits category, including Absolut, Malibu, Beefeater, Havana Club and Jameson.
Through bold, colorful design, the activation spaces aim to create an emotive connection with travelers, inviting them to discover and explore the wide range of white spirits alongside easy serving suggestions. Shoppers will also have the opportunity to play a 'spin the wheel' style game to discover their perfect cocktail and take home a cocktail recipe specific to their choice of white spirit, in a luggage tag inspired design.
Lisa McCann, Group Brand Director at Pernod Ricard Global Travel Retail, said, "We are thrilled to be launching the 'New Time Zone, Same Cocktail Hour' white spirits platform for young travelers globally. The name and concept aims to bring to life the fact that although the time zone you are heading to or from may change, the certainty of a cocktail hour doesn't.
"We know that Millennial and Gen Z consumers are always looking for original ways to explore white spirits and discover innovative and exciting ways to drink well-loved brands like Absolut, Havana Club and Malfy. The platform is the perfect place for white spirits shoppers to get inspiration and discover new brands through easy to replicate cocktail recipes, which they can enjoy during their trip, wherever the end destination may be."
Traveling shoppers will be able to experience the 'New Time Zone, Same Cocktail Hour' activation in key airports globally from June 2023.