Distell and Dufry branch out in Kenya with Amarula tree installation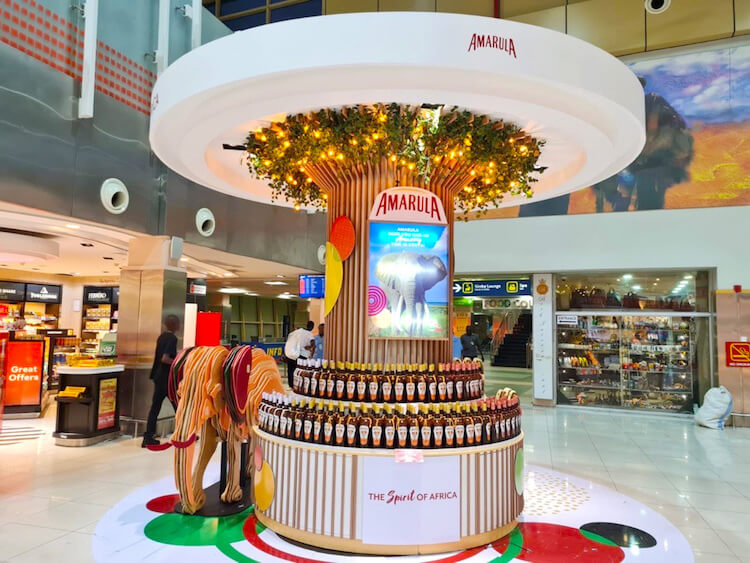 Distell Global Travel Retail and Dufry have partnered on a tree installation spotlighting cream liqueur brand Amarula at Jomo Kenyatta International Airport in Nairobi, Kenya.
According to the company, "The eye-catching tree symbolizes Amarula's proudly African heritage and brings to life its brand values through attractive design features. Fairy lights are intertwined with green foliage to imitate the hanging marula fruit, meanwhile wooden paneling replicates the trunk of the marula tree. A wooden elephant stands proudly next to the tree, as if ready to eat the ripe marula fruit that falls from the trees."
From May, the full Amarula range will be showcased at the space: Amarula Cream Liqueur, Vanilla Spice, Ethiopian Coffee, Chocolate and Amarula Vegan.
Luke Maga, Head of Europe & Global Travel Retail at Distell International, said, "Dufry has been a key partner of ours over the years and has been instrumental in supporting the growth of Amarula in Kenya. The permanent Amarula tree installation is the perfect embodiment of our longstanding collaboration and really brings to life the values at the heart of the Amarula brand."
Laura Chedid, Global Product and Promotion Manager of Liquor at Dufry, added, "We're delighted to be able to broaden awareness of authentically African brand Amarula at Kenya's busiest airport with the tree installation. In addition to showcasing the full Amarula range, the attractive tree fixture provides a fantastic photo opportunity for travelers."