Maestro DOBEL tequila celebrates luxury at Dubai Duty Free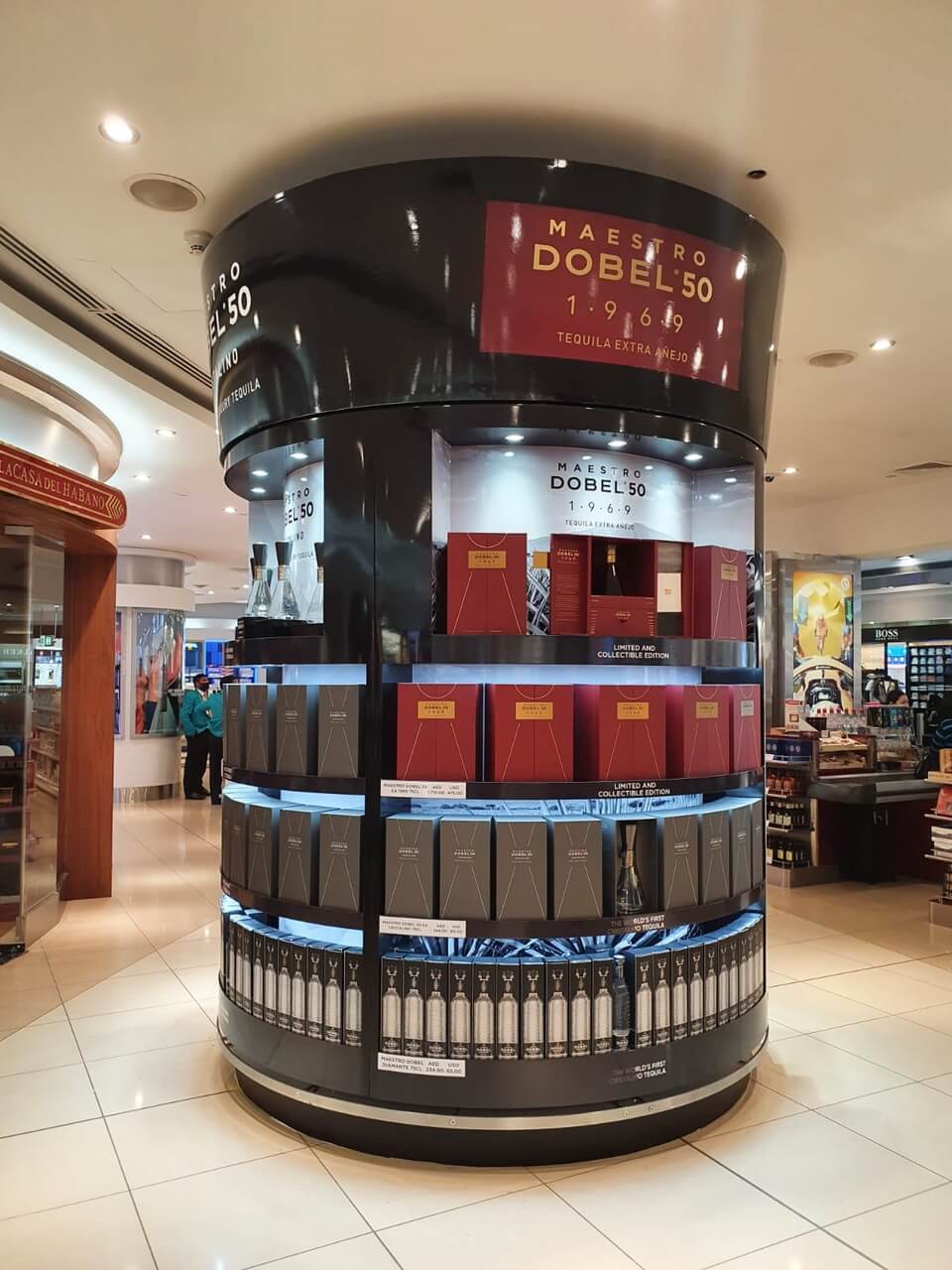 Dubai Duty Free has played host to Mexican tequila brand Maestro DOBEL with a display from Proximo Spirits in Concourse B at Dubai International Airport.
Two fully dressed pillars manned by a team of brand ambassadors showcase DOBEL 50 Cristalino and DOBEL 50 Extra Anejo 1969 Limited Edition tequilas.
The launch of DOBEL 50 as a luxury spirit in travel retail targets high-end spirits drinkers who are looking to expand and diversify their drinking occasion.
DOBEL 50 Extra Anejo 1969 Limited Edition tequila is described as a prestige tequila on a par with malt whisky, luxury Cognac or vintage Champagne. A 750ml bottle retails at US$475 at Dubai Airport.
This premium tequila is joined by another world-class variant from the rich volcanic soil of single estates in Jalisco, Mexico – DOBEL 50 Cristalino. Cristalino is a multi-aged tequila which is crystal-clear, complex and made for sipping neat for a special occasion or as an after-dinner drink. It retails at US$165 for a 750ml bottle.
Both handcrafted tequilas are cultivated for at least eight years before being harvested. They are aged in American and French oak barrels before being finished in Sauternes barrels.
The presentation in Dubai Duty Free is one of the largest collections of DOBEL 50 Extra Anejo 1969 Limited Edition on sale across the world as only 10,000 bottles are available.
Chris Hill, Tequila Portfolio Marketing Manager EMEA & APAC, Proximo Spirits, said: "It's an honor to present Maestro DOBEL 50 tequilas in this impressive activation and the response from travelers has been very positive. Proximo Spirits' lavish display of tequila excellence is at home amongst the famous, world-class brands in Dubai Duty Free. We are delighted to see our innovative DOBEL variants on display as the growth of luxury tequila in the travel retail continues to go from strength to strength."
Dubai Duty Free Senior Vice President for Purchasing Sharon Beecham commented: "We have welcomed many luxury spirits from across the globe, and the addition of Maestro DOBEL 50 in our product range will truly capture the imagination of travelers at Dubai International Airport."
Chirag Aggarwal, Business Manager Travel Retail, African & Eastern/Gulf Beverages Group, enthused: "We are very proud to be part of the Maestro DOBEL launch in collaboration with Proximo and Dubai Duty Free in showcasing luxury spirits (including limited editions) in a beautifully designed liquor pillar, with the assistance of very well-trained staff."