Sol de Janeiro debuts in Asia Pacific travel retail with L'OCCITANE Group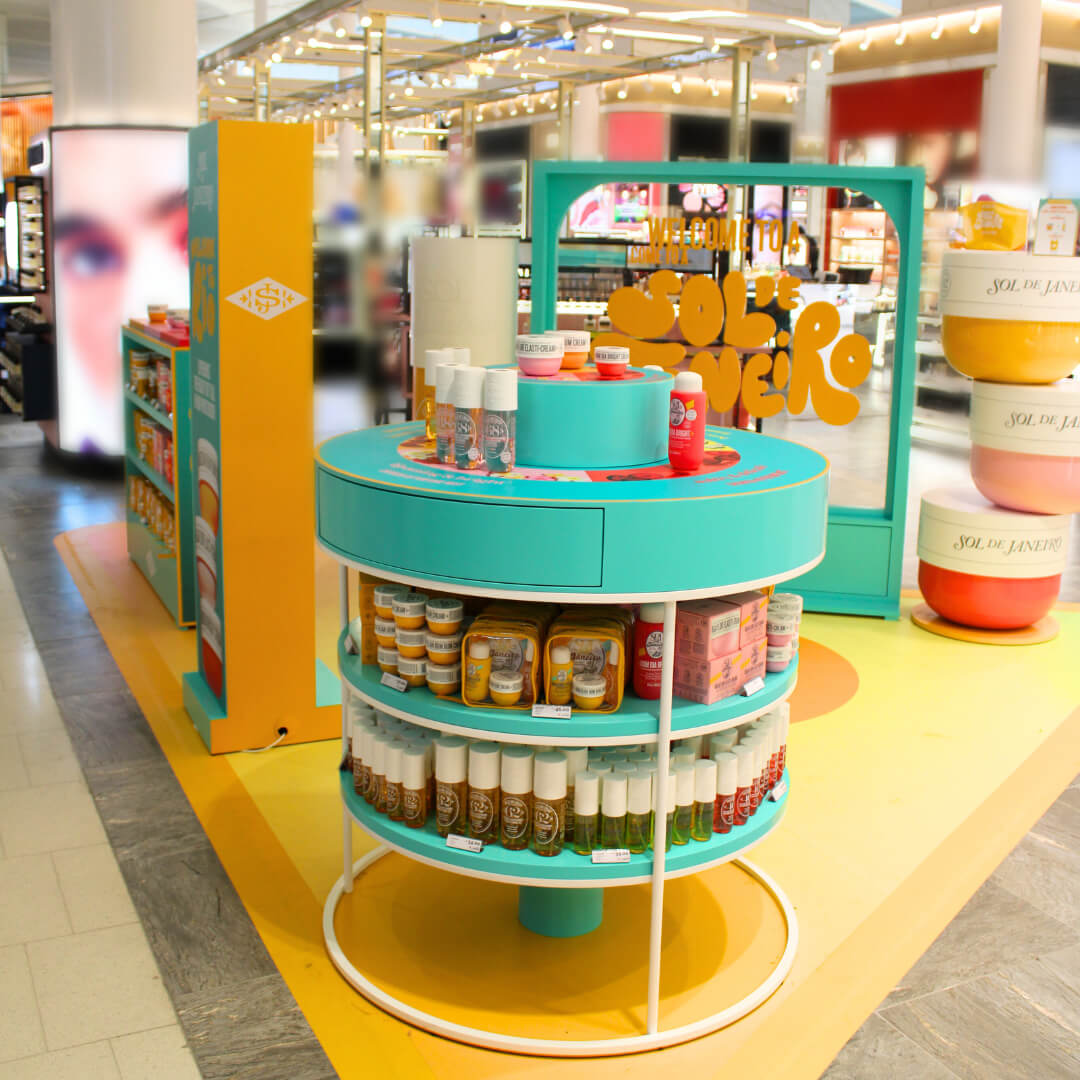 L'OCCITANE Group has debuted Brazilian-inspired premium skin and body care brand, Sol de Janeiro, in travel retail in Asia Pacific. Partnering with Heinemann Australia on the pre-launch, the strategic expansion bolsters L'OCCITANE Group's multi-brand approach within the channel. To celebrate the launch, the Group has unveiled an impressive animation at Sydney Airport's international departures area.
Estelle de Bure, Managing Director Global Travel Retail, L'OCCITANE Group, says, "We are thrilled to introduce Sol de Janeiro's first-ever travel retail counter in Asia Pacific with Heinemann Australia here in Sydney. We extend our heartfelt gratitude to Heinemann for its unwavering support in building a strong foundation for Sol de Janeiro in travel retail Asia Pacific. With its sandy beaches and dynamic energy evoking Rio de Janeiro, Sydney provides the perfect backdrop for this colorful animation. As we approach the summer season, this launch is impeccably timed to resonate with travelers, especially the burgeoning Generation Z demographic, who are increasingly gravitating towards the brand's empowering message of self-confidence and body positivity. We encourage travelers to join the movement, to confidently flaunt what makes them distinct and authentic."
Brazilian beauty good for the mind, body and "Sol"
Sol de Janeiro, meaning "Sun of January", captures the essence of Brazilian summers with its product range. Co-founder & CEO, Heela Yang, drew inspiration from her time in Brazil where she admired how Brazilian women embraced diverse body shapes, sizes, and skin tones. This appreciation culminated in the birth of Sol de Janeiro and its body-positive philosophy rooted in confidence with the motto: "Love it. Flaunt it. You've got it."
Embodying the spirit of Rio de Janeiro's beaches, the brand's portfolio includes body care, haircare, and fragrances. Each curated formula is infused with the "opulence of Brazil's native fruits and plant butters," nourishing hair and skin, while fostering a soulful wellbeing. The vibrant packaging mirrors the brilliant shades of the city's seascape with striking golden beaches, sunshine, blue skies and turquoise waters. Blending the lush, natural diversity of Brazil with cutting-edge technology, the range offers luxurious textures to stimulate all the senses, while products are vegan-friendly, and sulphate and cruelty-free.
Sol de Janeiro "state of mind"
Following Sol de Janeiro's success in the travel retail markets of the Americas and Europe, the brand has celebrated a significant milestone with its expansion into Asia Pacific. This pivotal moment is being celebrated with the introduction of an animation concept at Sydney Airport, displaying the brand's dynamic and vibrant colours – yellow, orange, and turquoise that underline Sol de Janeiro joyous and positive "state of mind." The playfully designed space pays homage to the brand's unique identity, establishing a strong presence within the airport.
Travelers can further immerse themselves in Sol de Janeiro's world through an interactive photobooth. Capturing moments with tailor-made frames and the on-hand props, these digital photos can be downloaded to personal devices via QR codes.
Product showcase: Brazilian Bum Bum Cream

With clinically proven formulations, Sol de Janeiro's best-selling cult-hero is Brazilian Bum Bum Cream. It is the ultimate statement of self-love and confidence, with the one product sold every eight seconds globally, according to the team. Presented in bold, orange and white packaging, the rich and fast-absorbing body moisturizer whose key ingredient is guaraná, has powerful benefits and an irresistible scent. Native to the Amazon, the guaraná plant's potent seeds offer a highly concentrated form of caffeine, proven to stimulate microcirculation for tighter-looking skin.
Signature scent: Cheirosa 62
Sol de Janeiro's award-winning Cheirosa 62 fragrance has expanded across the brand's collection. The warm fragrance, characterized with notes of pistachio, salted caramel, and vanilla, is the scent that started the brand's fragrance line and offers the feel of summer all-year-round. The Brazilian Crush Cheirosa 62 Perfume Mist, a hair and body perfume spray, draws inspiration from the year 1962 – one that ignited the world's infatuation with the song, "The Girl from Ipanema," and the beach culture of Brazil.
Ranjith Menon, Director, Purchasing (Beauty and Liquor, Tobacco & Confectionery) at Heinemann Asia Pacific, says, "Partnering exclusively with L'OCCITANE Group to bring Sol de Janeiro from Rio to the shores of Asia Pacific has been a delight. This animation at Sydney Airport promises to be a feast for the senses and aligns seamlessly with our commitment to offering unique experiences to travelers. We are excited to see travelers interact with the pop-up, embrace their uniqueness and become a part of Sol de Janeiro's uplifting narrative."
Cultivator of Change
L'OCCITANE en Provence was recently recognized in the 2021 progress report of the New Plastics Economy Global Commitment by the Ellen MacArthur Foundation. The brand was highlighted as one of the most committed brands in the fight against plastics.
To further the battle against plastic waste, L'OCCITANE Group has pledged that by 2025, 100% of its plastic bottles will be manufactured from 100% recycled waste.
As a leader in sustainability, L'OCCITANE Group continues to support the travel retail industry through open source sharing and by adopting a proactive, eco-friendly approach to product development and packaging.
See more photos below: