Victorinox to introduce product 
innovations and strengthened APAC team at TFWA Cannes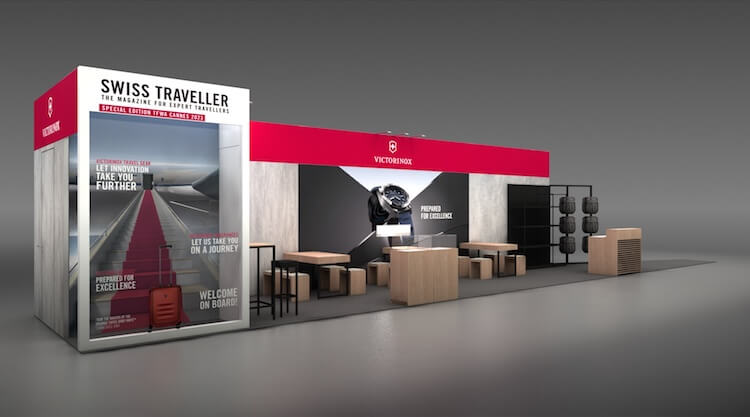 The latest product innovations from Victorinox's Travel Gear, Watch and Fragrance categories will be introduced by the company's Travel Retail team at the brand's revamped booth (Bay Village, Bay 5) at TFWA Cannes.
Designed to highlight the brand's premium positioning, the all-new Victorinox booth boasts a clean, minimalist design, featuring sleek colors and materials, which simultaneously communicates the brand's strong storytelling and rich heritage. To encourage engagement and drive entertainment, this year's stand includes a photo booth for visitors to create keepsakes of their TFWA World Exhibition 2023 visit.
Victorinox Head of Global Travel Retail & Fragrance Sales Gloria Dix said, "The entire team has been working tirelessly behind the scenes to prepare for this year's TFWA World Exhibition, which we are heading into with a real sense of excitement. We're looking forward to seeing our new booth design come to life and welcoming delegates to discover our latest innovations which underline our commitment to building a strong multicategory business."
Victorinox has bolstered its Asia Pacific Travel Retail team with two new hires, based at the company's Asia Pacific headquarters in Hong Kong, who will both be attending TFWA World Exhibition. Chihei Tai has been named Senior Regional Manager Travel Retail & Fragrances, Asia Pacific and can be contacted at: chihei.tai@victorinox.com.
Reporting to Chihei is Lorraine Lee, who has been appointed as Area Sales Manager - Travel Retail & Fragrances, Asia Pacific. Lorraine can be reached at lorraine.lee@victorinox.com.
Victorinox's new products include:
Travel Gear

A new core colorway, 'Storm', will be introduced next year to complement the existing Black and Victorinox Red colors in the Spectra 3.0 luggage line.
Victorinox's popular Airox line will be extended with Airox Advanced – a new range of lightweight, high-performance luggage.
The Architecture Urban2 range will be enhanced with a sophisticated new blue-black colorway.
A line extension for the Altmont Pro backpack collection will also be previewed at TFWA Cannes.
Watches
Three new watch lines will be showcased in Cannes: Journey 1884, I.N.O.X Chrono and Dive Pro.
Fragrances
Fragrance novelties include Quartz, a new men's fragrance from the Signature Collection that is inspired by shards of light piercing the geometric form of crystal stone.