EssilorLuxottica celebrates Ferrari anniversary with Ray-Ban promo in Italy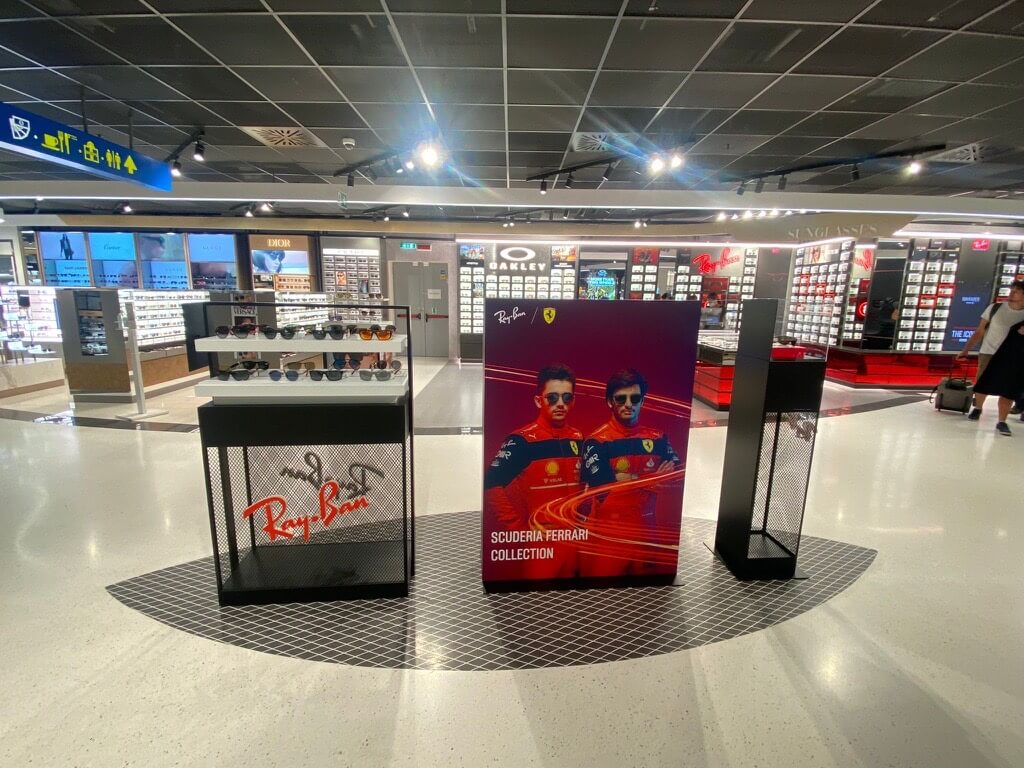 EssilorLuxottica has partnered with Dufry on three high-profile Ray-Ban for Scuderia Ferrari promotions across Malpensa, Linate and Bergamo airports in Italy in celebration of Ferrari's 75th anniversary.

Leveraging the buzz around the Formula 1 Monza Grand Prix on September 11, the promo series highlighted the popular Ray-Ban for Scuderia Ferrari eyewear collection, including the new Limited Edition Wayfarer in carbon fiber with "giallo Modena" details.
The 360-degree marketing activation aligned with Dufry's Emotion+ digital acceleration strategy, which combines online and offline initiatives. The omnichannel approach offered multiple engaging pop-ups across all Milan airports (Malpensa, Linate, Bergamo) with the addition of a F1 simulator at Malpensa, a dedicated online page on Dufry's Reserve & Collect site to generate awareness, pre-sales, paid and organic social media content, as well as display media on external channels linked to traveling.
The limited edition Wayfarer by Ray-Ban for Scuderia Ferrari was featured in select premium locations at Milano Malpensa and Milano Linate airports.
"Ultra-light, strong and just as sleek as the aerodynamic bodywork of Formula 1 cars, the new Carbon Fiber Wayfarer with giallo Modena details is inspired by the fast-paced design and materials of the F1 circuit," says the PR. The Scuderia Ferrari Racing Shield on the lens and on the temple plaque give this iconic piece "exclusive racing legend status," while a dedicated leather case with distinctive Carbon Fiber texture, 75th anniversary Limited Edition Certificate and premium box make it a collector's piece.
"With the excitement around Formula 1 continuing to grow, and the sport expanding into new territories every year, we are delighted to collaborate with Dufry to celebrate one of Formula 1's most iconic teams. Racing fans from all over the world descended on Italy last month for the Monza event and they were drawn in by the Ray-Ban for Scuderia Ferrari airport activations as well as the brand new limited edition wayfarers," comments Alessio Crivelli, Global Travel Retail Director at EssilorLuxottica.
"It is one of our key ambitions to engage our customers with exciting activations which allow us to surprise them and create a sense of fun. Our Emotion+ marketing approach leverages Dufry's digital and in-store assets to create a truly omni-channel customer's journey. This ambition has been fully embraced by EssilorLuxottica through the joint implementation of the Ray-Ban for Scuderia Ferrari animation which was put in place in our stores in Milan Malpensa Terminal 1 to celebrate the Formula 1 Monza GP, as well as through a pop-up activation in Milan Linate and Bergamo. We are delighted about with the strong interest the activation has created with both existing and new racing fans and customers," adds Manuela Facheris, Global Luxury & Fashion Director at Dufry.
See more photos below: